heehee. i kinda hate myself for that.
for someone who claims that she doesn't care.. i really talk a lot!
lame-o!
i guess in a way, that 'little' green-eyed monster just surfaced in me. i always thought i was fine.. but i guess i just proved myself that i am not completely fine.. *sigh*
just another thing i hate: when the
fact
just slapped me in the face.
*sigh*
gosh!! please go awayy! lame thoughts, just go awayy!! stupid philosophy class made me THINK! (the class is not at all stupid, by the way. as a matter of fact, i can actually point here that i'm glad to take such subject..) but i hate the thing that's in my mind right now.. huhuuu!
*sigh* i lose!
i lose i lose i lose!!
i lost to my own thoughts. no one has to do anything to get me down 'coz i am doing a perfect job toppling over myself.
just "great"!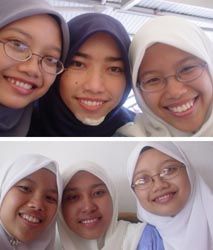 missing. that's what i am.
there are 4 places i'd like to visit before i die;
1. paris
2. rome
3. ireland
4. japan... where i can find kakcik and force her to show me around! hehhehe!
:)