ekekkeke!!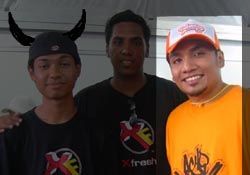 sape yang ade tanduk tu ekk? ekekke!
:P
i honestly have nothing much to say about today. been doing nothing much.
:)
but heyy!! check out my
NETOMAT!!
have a look, have a look!!! and leave something as well lah! just doodle, or write something, okie~!
:D
Bagaikan Sakti
by
Siti Nurhaliza & M Nasir
Cinta datang
Tanpa diundang
Seumur masa tercipta

Dia datang bagai sakti
Bagai menyaksi mekar
Kembang pagi

Cinta datang
Dengan senyuman
Panasnya membakar mentari

Wajah yang tergambar
Tak akan terpudar
Dari hati insan yang fana ini
Fana ini

Tak mungkin mentari
Akan terus sembunyi
Tiada sempadan
Tak bisa kulewati

Jika ini hakikatnya
Aku serahkan jiwa dan ragaku
Menantimu walau sengsara
Jika ini ketentuannya

Jika ini hakikatnya
Aku serahkan jiwa dan raga
Jika ini ketentuannya
Kaukan jadi milikku jua
funny how chilling it sounds when i listen to it as i read the lyrics. (imagining gusti puteri and hang tuah in
puteri gunung ledang
) macam.. adeh~!
love this song, anyways!! macam sangat klasik!
:x