which is awesome,
'coz i don't have any! ekkekeke!
quite a funny weekend i had. well, not exactly that HA-HA funny, but i really don't know how to describe it! huhuu~
everyone's missing izzati, been 2 weeks since everyone (me, dida, mama and papa) last saw her. ekekke! and me and dida kept singing the songs we usually sing for izzati. (stupid stupid songs dida created, really) haihh. i miss lah that kid!!!!
and i also miss dida 'coz she's been working all weekend. very busy with that shipment of spm paper. (note: she's working for misc) she should be heading to kelantan lah today. ehh, is it?? i think lah! apart from not having her to fight things about, i hate the fact that i had to sleep alone last night.
:-S
and this was a note papa left me before he got out for work on the tv screen last friday. ekekkeke.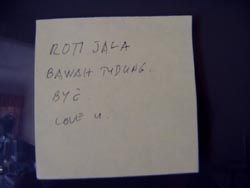 pandaaiii.. 'coz i'd surely sit in front of the telly! heehee.
and i heard one song that really caught my ears lahh while in the car few days ago, and i am getting myself very tired looking for it!! i think it's an indonesian singer.. and the thing is, i don't even know the name of the song!!! urghhh!! just got a line from the song!! (last time i had this kind of frustration was that time when i was looking for daniel bedingfield's song)
bencikk!!
but heyy.. have a good week people!
ps: kenape tetiba cam most of my favorite bands kuar album baru and i didn't know about it nieee??! grr!
X(