ahhahaha!!
okay. done editing for today. kinda tiring to work on this for 6-8 hours since yesterday.
so i've edited some bits around the layout! noticed it?? if not, try refreshing the page a few times and see if you'd notice it then. hihhik!
okie. lifehouse's album's out!!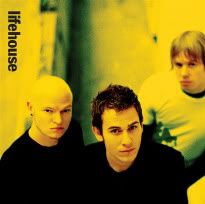 seems like mr wade has a new do! hihi!
wonder what their new album sounds like. have only heard
you and me
and it's not exactly ear-catching is it? well, maybe because i'm not too much in love as i used to, so somehow their songs doesn't seem to effect as much. *sigh*
o well! gotta listen to the album soon!!
just a bit to promote, heh! : Chat live with Lifehouse on MSN Celebrity Chats Wednesday, March 30 at 4pm PT/7pm ET on
MSN Chat!
again, SCRIPTS ARE AMAZZZIIIING!!!