- assuming that that's the way he spells his name. heehee.
Hola muchachos!! I intended to dazzle you all with my
knowledge
in Dutch but as I flipped through Dida's book of "Beginner's Dutch" I realize.. to
never
trust her judgement on
books!
Honestly.. I may never learn anything from this book!! I'd say it's an unnecessary way to spend €15,75 on.
Aaaanyways, currently sitting in the "office" of this apartment. Has a little view of the Nieuwe Maas River! Could take a better picture if I walk out to the balcony but I don't feel like freezing my feet just yet!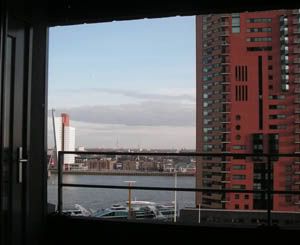 Sleepy, but I'm pretty sure that I'm over the jet lag. So let me yap on my way to Rotterdam!
March 19th, there was a delay to my flight. We only got off from KLIA at half past twelve, and I.. travelling alone, to an unfamiliar land.. had almost developed a fear for flying! eeek! I was terrible in Physics so naturally I was both in awe and horror when the plane started to lift off from the ground.
And I had the unfortunate luck to be seated to an old Sri Lankan (I assumed,) lady who can barely speak any English! *sigh* Ohh.. our dinner. The stewardess said it was "beef steak", I'd say it was more like a "beef mush"! ahahhah!!
I arrived in Frankfurt at about 6:30 am, and settled with the customs and bags around 7. I was fussing over my phone when two Malays, a guy and a girl walked over to me and said, "kawan Azraai ke?" heehee. Since Azraai couldn't come to pick me up, he had sent his juniors to help me out which was FANTASTIC!! Tik and Tauhir were AWESOME! They showed me around town.. brought me to eat in a cosy kebab shop. Frankfurt was really nice! Tik and Tauhir made it nice. THANK YOUUUUUU!!!
And thanks to Azraai
jugelah sebab dia yang suh bebudak ni datang..
Thanks Azraai!!!!
Finally got to Rotterdam Centraal around five after taking two trains from Frankfurt, where Dida picked me up. To get to Gedempte Zalmhaven (where this apartment stands) we took an underground train. So here I am!! Experiencing my first winter/supposedly-spring season. Rotterdam is colder than Frankfurt due to the winds. It really freezes the face!
Yet, Dida brought me shopping yesterday. heehee! Had my first waffle too! Hopefully Dida will recover from the flu she's having by the weekend or I wouldn't be able to see Amsterdam!
Alright, getting off the laptop now. Yacking about what I did these past few days is as boring as reading them on other people's blog! hahaha! See.. I
know
..
Thanks to Marcel for being such a great help with this internet connection that we're having and such a great sport for jumping around in excitement when me and Dida were clapping and cheering when he got it all figured out. (okay.. I used a little too much "and"s.. but you get it, don't you?)