now i'm certain that i'm in a much much better mood than yesterday! fuuh~ i actually took the last 20 hours to finally get back my normal mood! how freaky was that?
the 8-9 hours of sleep last night might have helped. and the sugar. hehe! loaads of sugar. i had the worse craving yet, late in the afternoon! i had to went to the shop even though it was raining outside. (such a bad time to crave for some junk!) and such a spoil that the shop didn't have any chocolate, so i had to settle with some twiggies, a big bottle of soda and a bag of chips - and voila! better mood. heehee!
i didn't know what i did for the rest of my day, but i only checked on mugglenet around 5pm and their latest news was about a
downloadable countdown calendar
on scholastic!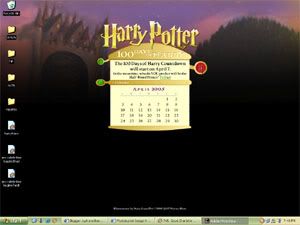 it hasn't started yet, gotta wait 'til tomorrow for some fun facts or any special features to come out from the calendar. (tomorrow = 100 days away from HBP!) the wallpaper is in shockwave, so sometimes an owl would swoop across the screen! hehe! i might get back to my old wallpaper if it weights down my already slow computer!
hihi! it's actually an illustration of the marauders; which i just ADORE! i don't know who did this wallpaper since i took it from a HP site, but i gotta love the person who did it!!
another reason for the much happier note is probably 'coz i finally get to download the video i've been wanting to see yesterday! weeeee~! *lol* i know, i get upset for the silliest things!
okay. i know it's really early and everything, but i think i
do
need to get to sleep sometime soon. so..
goodnight world!