hihi.
had a pretty amusing weekend. i was sleep-deprived, mind. but roughly i had a good time. been following the Augusta Masters (golf) with papa most mornings 'coz i can't get to shut my thoughts (when i tried sleeping). so how boring am i? - to actually follow GOLF, of all sports. (if you can call it a sport!) i wonder if any of the F1 drivers are interested in golf. i mean, that's a real big difference there, isn't it? hihi.
ohh. and i coudn't help myself laughing as i watched Man United lose to Norwich City by 2-0. to set the records sraight, i AM a Man U fan, but how lame were they; to lose to Norwich?? a bit pathetic, really. *sigh* so i simply couldn't help..
i miss having Beckham in Man U. *sigh* not too fond of him being in Real Madrid, don't know why. so i'd usually get hyped when it's the World Cup Qualifying with England on telly. hihi!
now i can't make out why i started rambling about football!!
ANYWAYS!! dida just got off her plane late tonight.
okay first, last thursday when i visited nina, she said dida had called and told her that she (dida) had a surprise for me!! little ole me!! heehee! and dida told nina what it was, and just wouldn't tell me. nina described it as "cool" and had guessed what it was before dida had told her.
SO! my weekend was entirely spent thinking what this mystery present was! hahha! it really bugged me that nina could have guessed it and i had NO IDEA WHAT SO EVER! (probably 'coz i want too many things that i can't just guess ONE! ahhahaha!!)
SOOO! i was watching the telly at the waiting area in KLIA (Trump just gave the apprentices their assignment) when mama called me out and said she's seen dida. so i looked where she was pointing and yeah! dida was walkin towards the exit..
and on her back.. she was carrying.......
EEEEEEEEEEEEEEEEEEEEEEEEEKK!!!
couldn't help but forget telly and run towards her!!
i gave her an extra hug when they all sent me here afterwards! hihi!!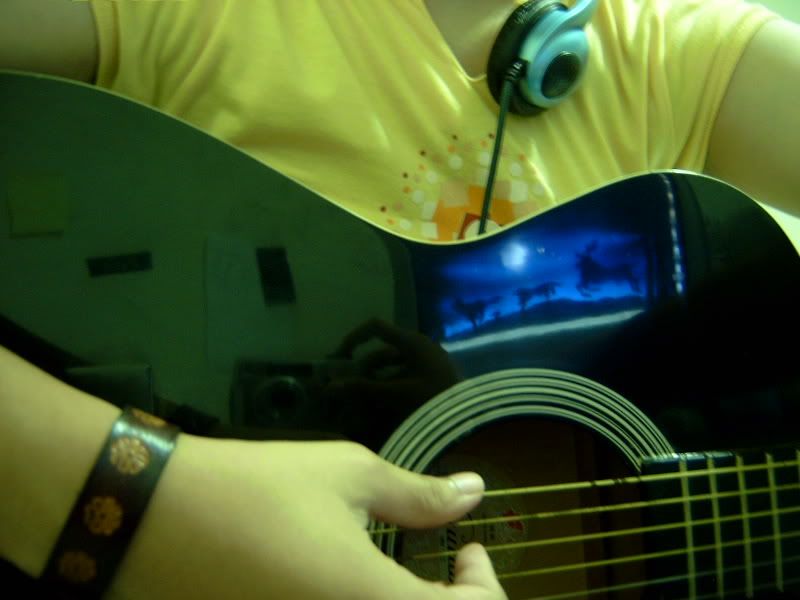 i thought the pic looks a bit cool! the guitar was reflecting my computer screen and even my other hand which was on the camera! heehee!
okay. now i ought to go to sleep if i want to wake up early tomorrow and study for Media Law!!
can't wait for the break and "study" my guitar!!!!!!