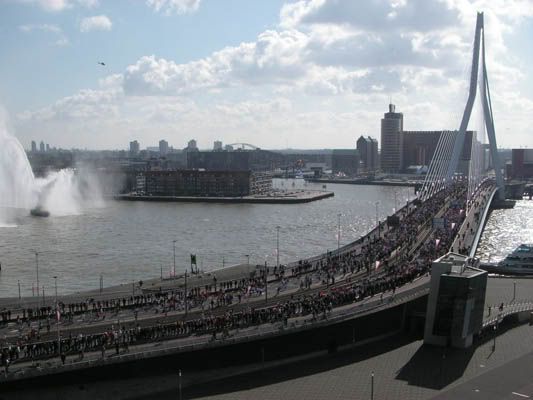 There had been a marathon run today! Well, o'course I wasn't running in it (eeek!) but you could say that they were running just right in front of
my
house. hehhe! The marathon was such a big thing! Plenty of people came out just to support any stranger that passed their way, it's amazing! heehee.
Anyways, yesterday I visited Brussels, Belgium. It was cold there. Very much like Rotterdam. And I have to say that I was disappointed that it had rained and pretty much spoiled my visit. We (me and Dida) had to take cover several times that it had cut our time short to enjoy the scenery. *sigh*
We had went on train (€27!) and took the city tour bus - the one you can hop on and off - to visit the must-see places. Since me and Dida had been walking around Paris, we thought "hey, we can hop off here and just walk around!", after all.. Brussels isn't really big. Well, the rain spoiled it. I had two places that I wish I had more time to go to, and one of them was the brilliant Atomium. It was.. so huge!! Really wished that I could take more pictures of it. *sigh*
But I suppose.. being able to eat some Belgium waffles was really really satisfying! heehee.
It's been 20 days since I've been here. Know what I learnt?
I learn that long distance relationship (in this case, it's between me and my father) doesn't actually stop you from being angry with one another. The "beauty" of technology. hah! Parents are SO lame sometimes - yes they ARE!
Being a fire element Sagittarius is such a drag.. (heehee!)