Got back from Barcelona a couple of hours ago. Really enjoyed it there.. it was warm. No. It was actually HOT!!
Me and Dida are a little tanned from the two days spent over there! It's almost unbelievable, I know, but that's what it is!!
Here's a tip;
DO NOT
fly on Vueling! ahhaha!! The flight might be cheap, but God it's horribly
untrustworthy
!! We kept being delayed.. for
hours
!! It's just wasn't fun.
Since we're just weekend-travellers (I'd like to call myself a weekend gypsy, if I may) we took the tour bus; might not be ideal for those with a tight budget, but if that isn't a problem.. it's a MUST!! There are three routes to take, the North, South and Forum.
The North Route took us to places where Gaudi had his works most.
La Sagrada Familia
.. was magnificent!! Okay, it's a cathedral and I probably shouldn't admire it but it's hard not to! A shame that Gaudi hadn't had enough time to finish his work. (He's the architect I mentioned, who died after being hit by a tram.)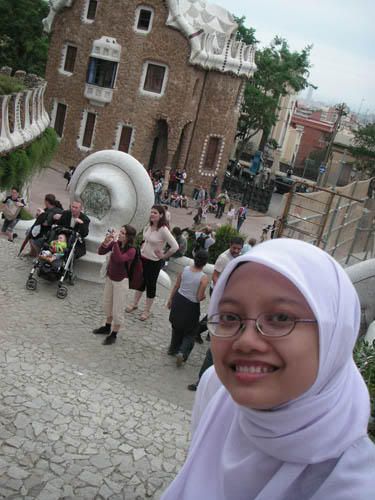 South Route goes around the higher ground of Barcelona; Monjuik, while the Forum goes along the beach.
The tour bus is simply thorough!! They even go to the football stadium. heehee.
Conclusion: It's simply isn't enough to see the entire of Barcelona in two days! Ooh! I
have
to say this. Catalans/Spanish knew VERY LITTLE English. They're even worse than French. Well.. no. We didn't have any problems in Paris but in Barcelona... it'd be wise to know the basics; "left".. "right"..
claro?
Bring eye-drops! The roads are dusty, probably from the numerous palm trees along the city. They're a murder.
Even then, I still *heart* (AHHAHAHAHA!!!) Barcelona! There are cute guys in every corner you look!! Okay, maybe that's just because they're more like
my type
but they're awfully friendly! - and very flirtatious, which I have no problem with! AHHAHAHAHAHA!!!
Paris and Barcelona.. they're tied as the best city I've been to. Just thinking about it struck me emotionally.. (shameful, I know!)
Will update my fotopage once I shake off the sore muscles.
G'nite everyone! Gonna tire myself out working on my journal.