heehee. An older kebab store fella said that to me and I just can't help liking the sound of it! Such a nice ring when people added "-love" or "-darling" to something really typical! "5 Pound, love."
My weekend in London...
I was grinning the whole time. It was not at all as I had hoped; what I had hoped.. was a fairytale, so never mind that! What it was, was tiring.. but I was happy! Extremely happy that I was there.
We had some problems with the travelling agency - which I'd
settle
with tomorrow - but people around London were really really nice!! Not as scary as the ones on telly.
It feels odd to be in some place where you can understand every single word conversed around you. All of a sudden you're listening to EVERY SINGLE WORD conversed around you. I'm a real eavesdropper while I was there. Listening to every conversation at the hotel or in the tube.. My sister kept asking me, "what are you smiling at?" heehee.
Our first day, a guy asked where I was from while we were in the tube and for what ever reason I was cold to him! I surprised myself. I'm usually quite friendly to strangers - too friendly even. Dida must have gotten to me. She told me off at the Schiphol Airport last week when we were heading to Barcelona. She said I was being too friendly to a creepy old guy. heehee. My bad. I can't pass a chance to have a candid conversation with a stranger!!
Anyways, I feel bad about the one in the tube. When we got off at Piccadily Circus Dida asked, "why didn't you chat with him?" Geez! Make up your mind, woman!
Then we got to Trafalgar Square.. where another man asked where I was from. So I say to myself.. "better be me, then!" I was feeling sorry for the guy earlier.
Med, the guy at the Trafalgar Square was really nice! He asked if we had any plans on what we're going to see since we have such short time. We said that our "plan" was to just walk around and stop where there's something to see! He then said, "oh, so you're following your nose then," - and my sister, for what ever reason rubbed her nose! ahhahahah!! That was funny. Med ended up walking with us, showing us routes to take if we'd like to head down to the Buckingham Palace, Big Ben or the London Eye.
He was really nice - and keen too! He noticed that Dida was quiet so he decided to leave us two to enjoy the walk. I laughed, o'course! Said, "yeah.. she's not too fond of strangers." heehee. Good man!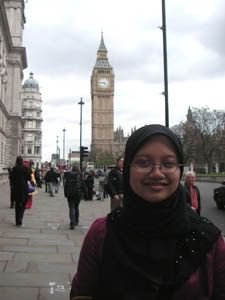 One thing I noticed about Londoners, they ARE keen to other people. And very polite. VERY polite. For instance,
A: "I'd like a cheese burger, and perhaps a large fries, please."
B: "Would you like salt and vinegar with your chips?"
A: "Yes, please"
B: "Would you like ketchup or mayonaise?"
A: "Ketchup, please"
B: "Anything else?"
A: "No, thank you."
heehee! And I thought you could only hear things like that when you read out of a text book!
We went to every tourists attraction, I think! Don't think we had left anything out. So.. three days in London is quite enough to see
everything
. It just depends on what
everything
is to you. I say it's enough to
see
everything, but it wasn't enough to
really
see them. Am I talking in circles? heehee.
I'm afraid I can't tell you every single detail that had happened in London - What happens in London stays in London!! ahhahha! naah~ I'm just tired from the travelling. Very much glad that we didn't plan for anything next weekend or me and Dida will never get our rest!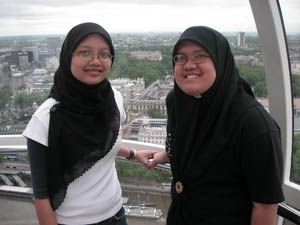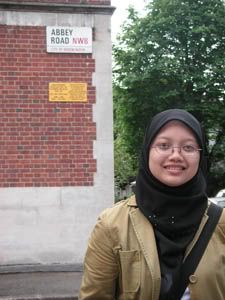 The rest of the
good
photos that we took in London will be uploaded on Fotopage when I feel like it.
yeayyy! Got four stamps in my passport now!
Update!
ooh! I didn't have a conclusion to my entry!
Okay, so I love London. It was
bloody brilliant
! I wish I could make the city my boyfriend! Okay not really. I wish it could be my blood brother! Then I couldn't possibly dump him, right? It's just.. weird how
right
I felt, being there. haha!
Macam balek kampung
of some sort.
I wish I had more time to see everything and go everywhere that I had wanted to. If only we had more time and our feet didn't hurt as bad as it did!! Man! I
SO
want to go there again!
Then maybe I'd have enough time to find a bloke for Muz and myself! ekkekeke!
Madame Tussauds; I think it's over-rated! It
was
amusing.. but it wasn't exactly amazing. So if you're thinking of going to London, you can skip that. I'd say, to see it is a novelty but I really believe you won't miss much. The Will Smith definitely needs more work! heehee.
By the way, when we were back in our building in Rotterdam, I managed to get this one fella almost hit the glass door with one look! ahhahaha!! I could be such a
successful
geisha! ahahhahahahhahaha!!