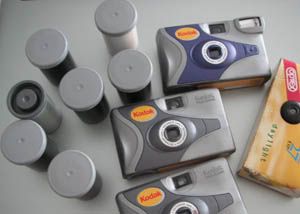 Some load of films and single-use cameras to be developed! Now those cameras.. is all Dida's fault for forgetting her digital camera on our trip to Roma!
Somehow I'm starting to get a teeny.. tiny bit excited about going home.
Muz, I hope you're free on Monday!
I miss a good long conversation over a good caramel ice blend.
Just a bit bummed that there won't be any WK (We-Ka, the Dutch's way of saying World Cup) match held in Frankfurt on the 15th. Would've been awesome if there is!! The most bumming fact is that England is playing Trinidad & Tobago
that
day in
Nurmberg
!!!
cis ciss dan cisss lagi!
By the way
incik
Azraai, I tried calling you earlier this evening and my call was directed to a voicemail. I think! I have no idea what the lady was saying!
And I've successfully called Tik! ekkekekkekekekekeke!!!
Right now working on my travel journal. Kinda pissy since I lost one of my boarding pass somehow! It's the one for my flight from Rome to Amsterdam. grrr.
Okay. There's lightning outside. Kinda scary. Haven't had this sort of weather ever since I've been here!!