Had a pretty good day. Well, yesterday!
Shops are usually closed by 6pm on most days except Fridays when they'll stay open 'til 9pm so Dida got to show me around town. I can't really remember the name.. I barely remember the name of this place! Leuvehaven, that's it. (note: I'm opening up the travel map Dida gave me to read.) Alright, "town" was at Beurs. hehhe!
We first headed out to the "Chinatown" of Rotterdam. heehee. That's where we could find Asian spices and fruits. (There's even durian in one of the stores!) After getting a few groceries, Dida lead me on a walk and what-d'ya-know! There's the town! Loads of people walking around. Dida said it's typical since the stores opens for a longer time.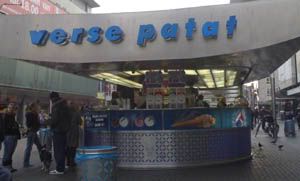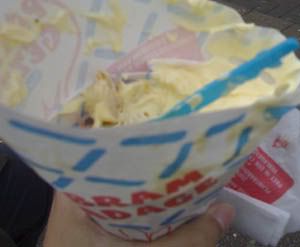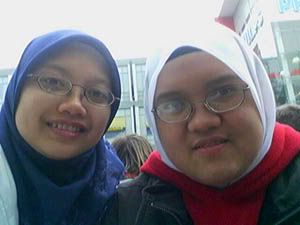 Dida brought me to eat patat. *grins* To those who speaks Malay and very well acquainted with a word that sounded very similar with that word "patat", patat simply translates "potato"! We had sat around on a bench.. swept by cold winds every now and then, eating some fries with mayonaise.
Finally bought a pair of boots! A really nice pair of boots which I'm adoring!! Cost.. err.. €49. Well, it was on sale! The original price was €69 so that's RM90 saved! I kept singing "these boots are made for walking.." as I was wearing it. Take note, I was
NOT
singing it in Jessica Simpson's version! yuck!
Won't be visiting Amsterdam tomorrow as planned. Dida isn't fully well yet, so she prefers to stay home and rest. O well, she
had
promised to bring me to Amsterdam.. I trust that she will, sooner or later!
Okie.. finally remembered to download this song earlier yesterday. First heard it on the plane to Frankfurt and I simply love it! I'd automatically tune in to Channel #3 every hour and a half to catch the song. heehee.
The Real Thing
by
Bo Bice
Every word I say I mean it
Every single day I feel it
But sometimes when you talk
It's obvious you want to show it
So don't blow it

Tell me what we got
Tell me it's a lot
Tell me it's the real thing
Tell me not to change
And always be the same
Tell me that's a good thing
It's a good thing
Tell me not to lie
Tell me not to wait
Tell me that you want the same things as me
Tell me that it's fate
Driving me insane
Tell me it's the real thing
That keeps me hangin' on

I can read the signs between us
And I feel it inside when you come nearer
There's a stillness in the air
Like no one else is there
And every moment stays in the moment

Tell me what we got
Tell me it's a lot
Tell me it's the real thing
Tell me not to change and always be the same
Tell me that's a good thing
It's a good thing
Tell me not to lie
Tell me not to wait
Tell me that you want the same things as me
Tell me that it's fate
Driving me insane
Tell me it's the real thing
That keeps me hangin on

Sometimes it hurts to watch you leave
It feels like you're taking a part of me with you
I never know how it'll be
I guess it's just a mystery
But is it the real thing (that keeps me hangin on)

Tell me what we got
Tell me it's a lot
Tell me it's the real thing
Tell me not to change and always be the same
Tell me that's a good thing
It's a good thing
Tell me not to lie
Tell me not to wait
Tell me that you want the same things as me
Tell me that it's fate
Driving me insane
Tell me it's the real thing
That keeps me hangin on

Tell me what we got
Tell me it's a lot
Tell me it's the real thing
Tell me not to change and always be the same
Tell me that's a good thing
It's a good thing
Tell me not to lie
Tell me not to wait
Tell me that you want the same things as me
Tell me that it's fate
Driving me insane
Tell me it's the real thing
The real thing