Had a great time with my favourite girls today.
It was a little annoying that time was too restricted that we barely had enough time to really catch up on each other's lives.
Me, Hanis and Muz had went out around 2pm but the train had only arrived at half past due to some power failure.
We went to KLCC so Dayat could join us faster than to have her travel from her school to Mid Valley. Arrived there about half past three, and had about three hours before Dayat to actually come along!
To
waste
some time, I met up with
the guy
and bought him lunch (heehee!) and pretty much introduced him to the gang. We practically "interviewed" him for a little, and he had gotten so concious that he didn't even eat his meal! ekekkeke!! Funny little git.
After he went back to work, me and the girls went around and window shopped. Alright, I did bought something for myself! Was looking for a handbag, so we went in Converse. (me.. Converse.. it's an addiction!) They had this nice bag that I like.. but they were sold out of the colour I had wanted.. So next we went to Quicksilver, Mambo and this other shop on the same floor and they just didn't have one that I could see myself with.
I dragged my friends to the Adidas store and what-d'ya-know! We found two bags with good potential! heehee. So there we were.. standing around the display, and me holding both bags in front of the mirror trying to work out which colour works best with my outfit. It was a pitiful lost to the blue coloured bag since it was against a RED bag! ahahhaha!! So that was it, I got myself a red Adidas handbag - which Dida later thought was cute! (Didn't really matter if I hadn't had any red on my outfit.. just had to get the red bag!)
Once Dayat had arrived, we head straight to Chilli's! It was Yat's and Hanis' first time eating there.. which is typically them.. and typically for me and Muz to introduce them to a new place to eat!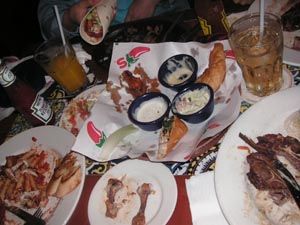 We ate like crazy there! Munching, laughing, we were sooooo full that we all ended up cross-eyed by the end of the meal. Muz even had some trouble walking afterwards.
Then Dayat and Hanis had to went back early.. around 8! Muz and I stayed behind.. went to Coffee Club for a drink and cake. hahhaha!! (yeah.. we actually managed to eat some more!) Talked and yapped. Been a while since I last talked to her. Going to miss that once I'm away! Only left around 9:40 with
the guy
who went out earlier that he should have!!
So now I'm home.. wishing dearly that I
had have
have had more time with the girls than the restricted two hours we had. I am SO going to have a boring week ahead since Dida will be gone and the girls with full schedules. *sigh*
Funny how sometimes I feel like I have no life but also feel that I am living anyways.
What's funnier.. is how Malay guys (out of experience) likes to say;
"Marah kee?"
and
"Jangan marah tau.."
("Are you angry?", "Please don't be angry..")
They seem to
like
saying it 'cause everytime a guy said it to me.. I had sounded NOTHING like getting angry. I had only felt angered AFTER he said it. It's irritating!! Muz reckons that Malay guys are completely unsure of themself . heehee!
Alright. Need my rest. Dida will probably drag me out of this seat anyways. She had wanted me to "synchronize packing" with her.