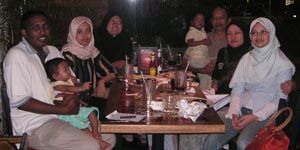 Though I almost cried 6 times in public.. and in front of Muz at lunch (who stopped by 'cause she's plain nice).. wanting to off every single soul who dared to ask me where they could find "an indexed note book".. the even more aching feet..
It comes down to a nice family dinner at Chilli's.
It was
still
one of the worst days of my life.. but it was nice to have the whole family around.